Do you have a burning issue that you've been struggling with and are tired of nothing changing?
Would you like some clear guidance about how to move forward in a relationship challenge? 
Would you like more clarity about next steps for yourself? 
Then join me for my newest offering—a Coffee Shop Session!
Coffee, Conversation, and Creating Changes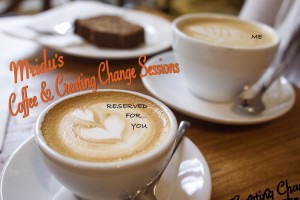 Ingredients:  Here's how it comes together
Pick an option from the menu below, and email me with the following information:
Your question/questions

Description of what is going on in 2-3 sentences

What kind of result you would like to have out of this situation
I whip up an extra special intuitive session that is attuned to you AND releases blocks to shift the problem into the solution naturally! 

Now for the really FUN part:  When I'm finished, we meet at a coffee shop and I invite you to indulge in a cup of coffee in person (or over the phone) and discover deep insights into the situation, as well as the opportunity to ask questions.   I work with beautiful mandalas to shift the energy.

You take home a beautiful mandala chart with empowered affirmations to assist you in the process!   

Schedule your next session!  

Sign up for 3 sessions after your 1st session (at regular price) with me and receive 10% off!
 Mridu's Coffee and Creating Changes Menu
Here are the different options you can choose from:
Tall
~30 minute chart~
Good for one question or problem such as a relationship issue with another person or needing some information about how to move forward in an area of your life. – Price: $125.00 
Grande
~45 minute Chart~
If there are 2-3 questions or challenges that you are working on that you would like some clarity and healing around, then this is your choice! – Price: $150.00 
 Supreme
~60 Minute Chart~
Good for a really complex situation such as a group of people or a long standing issue that has a lot of components. Also great for strategizing a plan for a successful outcome – Price: $175.00 
This menu originates from the heart of Mridu's passion for coffee, conversation and assisting others in creating change and clearing challenges!

 

Clients are raving about the latest craze …Coffee, Conversation & Creating Changes!

Mridu has a gift for quietly, compassionately seeing people as they are – during our Coffee Shop Session, I felt completely safe and seen, and saw shifts in the issue I was working with almost immediately. Mridu, I'm grateful for you and can't wait to learn from you again in the future!

-E.B, North Carolina

The coffee session is amazingly impactful.  Mridu's insights brought a deep level of clarity for me in a gentle manner.  I loved the affirmations that assist me even today & would definitely do this again! 

-Educational Trainer., Ohio

When Mridu offered the coffee shop session, I jumped at the opportunity. I've worked with her before and am a huge fan of her work and the beautiful gifts she brings to her sessions.  I gave her a specific issue I have been dealing with at work.  She then called me to discuss what she had discovered. Wow! Wow! Wow! She hit the nail on the head. As she explained the work she had done, I felt a peace come over me and a confidence that the energy was shifting.  I actually ran into one person involved in the situation earlier today and noticed I no longer had the same reaction to them as before.  I highly recommend these sessions especially if there is a situation or an issue you are struggling with or seem to go forward and then back. Loved it!

-F.S., Kentucky

Are you ready to shift out of your challenges and connect with what you REALLY want? If so..